Language Education for Children
In an increasingly globalized world where one has to adapt rapidly to changes, English is an essential tool which one cannot be without. Being able to communicate in English opens up many possibilities for children. At OWLS, using out proprietary method, we develop curriculum that taps into the flexible, easily adaptable, and inquisitive nature of children, to help them actualize their dreams.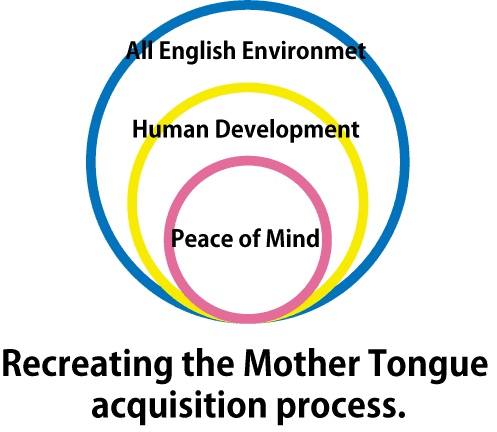 The Direct Method
All English Environment
Instructors use only English when communicating with students. This allows children to become naturally attuned to comprehending English in English itself.
Human Development
For our children who are spreading their wings in the world today, to just merely be able to use English, but lack empathy and the knowledge to behave appropriately, would not suffice.
Peace of Mind
We ensure a safe environment for children and maintain constant contact with parents.

On top of that, be believe in helping kids develop self confidence in their abilities.
Recreating the Mother Tongue acquisition process
It is said that the Direct Method is the most certain to recreate the natural language acquisition process. The guidance process that is adopted in the English immersion program was developed with natural language acquisition in mind.
When we look back at how we acquired the ability to use our respective mother tongues, a few things come to mind. We listened to and repeated simple rhymes or songs. When we heard different words, we grew accustomed to their sounds, and then repeated them multiple times. It was this kind of daily input / output process which helped build our Mother Tongue abilities to a point where we were able to use it naturally.
At OWLS, we believe in replicating this exact process, thus allowing children to acquire English naturally. Using our proprietary Direct Method, we develop and conduct English education programs which mimic the Mother Tongue acquisition process. This program seeks to nurture globally ready children who can speak just like native speakers at their Elementary School graduation.

As the very first program in Kyushu that offers an after school all English platform for children, The Kids' Land program was created based on our belief that it is important for children to use English beyond the classroom. Our characteristic parties, camps and events are conducted in English, with the sole purpose or nurturing children who can take on a globalized world.
The after school enrichment program that is approaching its seventh successful year.
At Kids' Land, children come in contact with essential everyday English expressions. They sing songs, play games, self-study, clean and take part in various other activities in an all English environment.
Communication is conducted entirely in English, without the use of any Japanese, thus allowing children to become naturally attuned to comprehending English in English itself.
Firstly, we believe that it is important to learn English through a process that is fun and spontaneous. As the next step, it is essential that children are trained to use English as a tool for global communication.
OWLS conducts summer camps, Halloween events, Christmas parties and many other fun events in English.